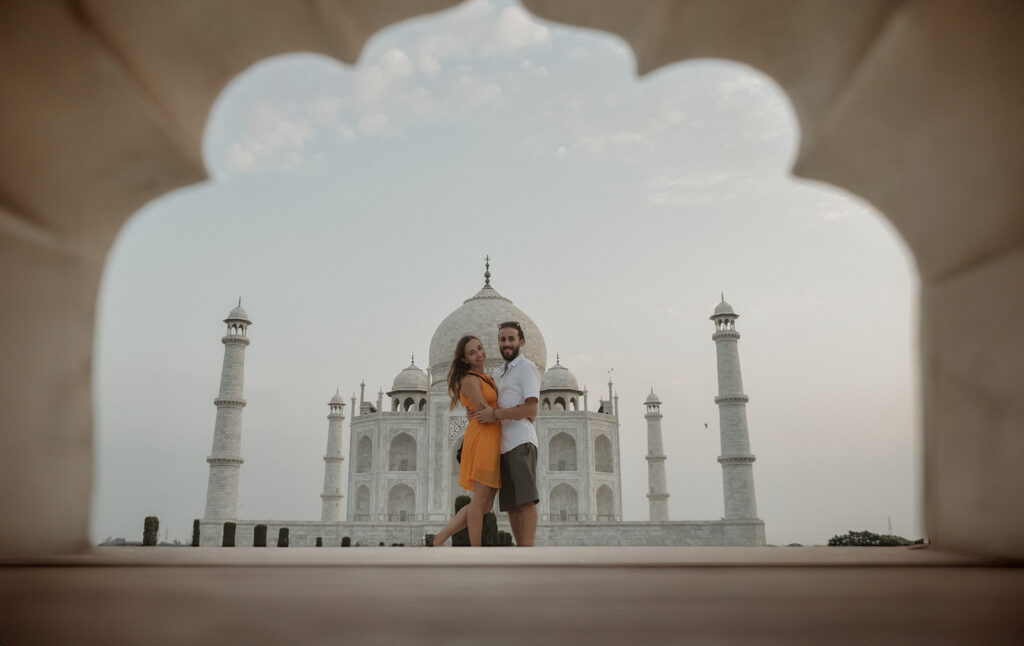 Welcome to our special Q&A session featuring the extraordinary journey of Moz and Gi, two intrepid world explorers who found themselves unexpectedly stuck in Tasmania during the global COVID-19 pandemic. What started as an unforeseen detour in their adventures led them to put down roots in this beautiful Australian island, where they discovered a passion for capturing love stories through their lens. These incredible individuals have not only forged a successful wedding photography and videography business but have also become beloved members of the local wedding community.
N: How did you end up in the wedding biz? 
What got you hooked on being a wedding vendor?
Moz & Gi:  It all goes back to our pre-covid nomad life! We started traveling the world around 2016 with an old DSLR camera to document our adventures. With time we started to buy more gear and photography and videography became a huge part of our lives! 
While the pandemic made us put a stop to our travels and locked us in Tasmania (which we'll forever be grateful for) Moz decided to take things seriously and opened his landscape photography instagram account and website, called Mozoph, a name formed by his last name, Mozo and the PH for photography. 
Photography introduced us to our first friends on the island, and thanks to Moz's outgoing personality, he connected with people in the wedding industry, sharing his work with them. Before long, he received an inquiry for his first wedding, an elopement in Mount Field where he had the pleasure of capturing video alongside the talented Fred & Hannah.
From that point on, inquiries kept pouring in, even though we hadn't actively promoted ourselves as wedding photographers. In the beginning, Moz handled everything on his own, while I pitched in by editing videos and responding to emails. As things got busier and we realized that this could be our way of life, we took the initiative to develop our brand. Since Mozoph was already known within the photography community, we decided to retain the name and added "weddings" to distinguish it from his landscape and commercial projects. This adjustment made it easier for couples to find us. Within two months of officially launching the business, we took the leap and left our part-time jobs to pursue photography and videography full-time. The rest, as they say, is history!
To both of us, weddings meant we could create something people would cherish for the rest of their lives, document their memories and do something that had an important meaning. That idea made us fall in love with the thought of becoming a wedding vendor. 
N: What makes your services stand out in a sea of wedding vendors? 
Moz & Gi: We tell stories. 
Our videos have the unique characteristic of being a mix of raw-documentary and cinematic, so along with the stunning drone shots and carefully stabilised footage, we include the raw audio of the day, so it feels like an actual window to the past. We pay a lot of attention to audio, so they'll be able to hear conversations they were having while getting ready that they probably don't even remember happened, We like to ask them how they are feeling, so they can express that to the camera, We also ask some of their friends and family to leave a message for them to see when we deliver the video, so there are a lot of hidden gems in there that keep everything alive. 
Another huge thing we do is the Adventure Session. A lot of photographers do that, but we don't know of any videographers offering it. We encourage couples to do something they usually enjoy doing, or to recreate their favourite date and we capture that on video too. It's amazing what couples can come up with when you encourage them to think outside of the box, so you can get a camping getaway, a Maccas themed home photoshoot, a golfing session and even an empty new home session with a couple that had just bought their first house. All of this goes to their wedding film, so when they're reciting their vows and making reference to their time together, it's always a nice surprise to see those shots of them, outside of the wedding day, doing some every day activity. Our couples love that, and so do we. 
Our photos have that genuine, candid and smooth style that we think complements the video really well. We like to capture movement, so even when it comes to directing a portrait session, We give prompts that encourage them to move, laugh and interact with each other, so we can be sneaky and get those beautiful candid smiles and intimate moments. It gives our images a very cinematic style, which we love. We want our images to look like a still frame from a movie. 
N:  What's the most enjoyable part of working with couples during the wedding planning process, in your experience?
Moz & Gi: Working with couples during the wedding planning process is an absolute delight! It's like being a part of their love story and helping to bring their dream day to life. From understanding their one-of-a-kind vision to working together to create stunning visuals, it's incredible to see their joy and excitement as their ideas come alive. And the best part? Building a genuine connection with the couple and being entrusted with capturing their memories brings so much satisfaction and fulfilment! 
N: Any myths or misconceptions about your line of work that you'd like to debunk?
Moz & Gi: One of the first things most couples come up with when first meeting us is "I'm really awkward in front of the camera" "I'm not photogenic" as if they were somehow giving us a heads up, or actually meaning to say "don't expect our photos to be like the ones you share on your socials". But let me tell you a little secret: they're more photogenic than they give themselves credit for. Truth be told, nobody is used to being in front of a camera, unless they're a professional model or actor, so one of our missions is to create an environment where they can feel comfortable and be themselves. Posing and smiling awkwardly to the camera sounds horrible, but what if We tell you "look at your partner and tell them your best joke"? Most people can't come up with one out of the blue, and that leads to both of them starting to laugh. That's your instagram shot. 
N: How do you ensure you understand a couple's unique vision and cater to their needs for the big day?
Moz & Gi: We take several steps to ensure we're on the same page and can bring their dreams to life. We start by scheduling meetings with the couple, either in person or through video call. These meetings allow us to get to know them better, understand their love story, and grasp their overall vision for the wedding. We encourage open and honest communication, where they can express their desires, preferences, and any specific themes or elements they have in mind. We also provide detailed questionnaires that cover various aspects of the wedding, from the ceremony to the reception, decor, music, and more. These questionnaires help us gather specific details and preferences, ensuring that no important aspect is overlooked. Communication is key and allows us to address any concerns, manage expectations, and make necessary adjustments along the way.
N Share a success story where your services made a real impact on a couple's wedding. We love a happy ending!
Moz & Gi: We believe that the real impact of our work comes once the big day has passed. And we've had many situations that have made us feel that our work has an actual impact in people's lives. There was a heartwarming occasion when we helped a couple announce their pregnancy through their wedding portraits. It was a beautiful and memorable moment that we were honoured to capture.
On other occasions, we have had the privilege of creating cherished memories for people who have experienced the loss of a loved one who was present on their wedding day. By capturing those precious moments, we were able to offer a source of comfort and remembrance during a difficult time.
We have also been humbled by couples who have expressed that their wedding day felt like a whirlwind, and everything seemed like a blur. Through our work, we have been able to help them relive and preserve the beautiful memories they might have missed or forgotten, allowing them to fully immerse themselves in the magic of that special day.
These experiences are the very reason why we are passionate about what we do and why we chose to be part of the wedding industry. The ability to create lasting impressions and touch people's hearts through our photos and films is a privilege we treasure.
N: When things go haywire or last-minute changes happen during a wedding, how do you handle it like a pro?
Moz & Gi: We have been lucky so far because the problems we have faced were always minor. A dress with a broken zipper fixed by a skilled bridesmaid or family member, other vendors getting sick and not being able to attend, forgotten bouquets, a mic not properly set up, or organisational changes that throw our plans out the window.
Maintaining a calm and composed demeanour is crucial when faced with unexpected situations. We understand that weddings can be unpredictable, and panicking won't help. 
By staying calm, we can think clearly and make rational decisions to address the issue. It's important to prioritise the most critical aspects and tackle them first. Always maintaining a smile on your face and a relaxed attitude, whether it's a vendor issue, a scheduling conflict, or any other unforeseen circumstance, we brainstorm solutions and come up with a plan to reduce the impact on the couple's wedding day.
Another thing to keep in mind, is recognising that changes can occur at any moment. This mindset allows us to adjust plans and find alternative solutions when necessary. Whether it's rearranging the timeline, sourcing replacement vendors, or reconfiguring the setup, we remain flexible to ensure a smooth flow for the couple and their guests. Communication is key during unexpected situations or last-minute changes. We proactively communicate with everyone, including vendors, venue staff, and the couple themselves. By keeping everyone informed and on the same page, we can coordinate efforts and work together to overcome challenges.
As part of our preparations, we always have backup plans in place. This ensures that we're ready to tackle unexpected circumstances. Whether it's having backup equipment, alternative vendors on standby, or additional staff members (We have three second shooters in our team now!)
Our role is to provide support and reassurance, keeping them informed about the situation and reassuring them that we're doing everything possible to resolve the issue. This helps relieve their concerns and allows them to focus on enjoying their special day.
N: Do you have any cool extras or hidden gems in your services that couples might not know about but would love to have?
Moz & Gi: Definitely the adventure session! As mentioned before, they can plan for their idea of the perfect date and then not only end up with lots of amazing photos for their RSVPs but also get to see that in their wedding film. It adds a lot of depth to the story.
N: What's the typical timeline for couples to book your services? And when should they start reaching out to secure their spot?
Moz & Gi: For couples embarking on their wedding planning journey, it's best to reach out to us approximately 12 to 18 months in advance. Certain dates can generate a lot of buzz, especially when they feature interesting combinations of numbers. For example, dates like 25/01/25. Securing your desired date early is advisable to make sure we have availability. Don't miss out!
N: Do you offer any handy resources or tools to help couples navigate their wedding planning journey with ease?
Moz & Gi: We absolutely do! We know how stressful wedding planning can get (We planned ours in only four months!) so we like to assist our couples in navigating their wedding planning journey. We have a curated list of trusted vendors in various categories, including photographers and videographers to recommend whenever we're not available, florists, caterers, stylists and more. These recommendations are based on our personal experience, making it easier for couples to find reliable professionals for their wedding day. 
Another useful tool we like to offer is a wedding timeline template and guide. A well structured timeline is crucial for a smooth running day and our guide helps couples outline the sequence of events from getting ready to the ceremony and reception, while also keeping into consideration times required from our end as photographers/videographers.
We also offer personalised consultations where couples can discuss their specific wedding vision, ask questions and receive advice. They can be either in person (we always like to invite our couples a cup of coffee or a beer, depending on the time and place of the meeting) or virtually, depending on the couple's preferences and location. 
N:  Lastly, drop some wisdom! Any sage advice for couples embarking on the crazy adventure of wedding planning?
Moz & Gi: Enjoy the process! A wedding isn't just the wedding day, but also the journey leading up to it and all the memories left after. Take pleasure in every step, from selecting vendors to crafting the details that make your day uniquely yours. Stay calm and try to be organised, it can sometimes feel overwhelming, but maintaining a calm mindset and staying organised will help you navigate through it smoothly. Create checklists, set deadlines, and keep track of important tasks to make sure nothing's missing!
Remember, your wedding day is not just about that one day but about the beautiful memories you'll cherish forever. So, enjoy every moment, embrace the journey and create a celebration that reflects your love story and leaves you with lifelong memories. Cheers to a fantastic wedding planning adventure!
Moz & Gi xx
These two are true outdoor enthusiasts! They have a deep connection with nature and find joy in camping, hiking and spending time outdoors. So when they invited us to capture their camping getaway, we couldn't have been more excited!
The photos speak for themselves. They had an absolute blast! and the adventure made for some pretty amazing extra shots in their wedding film.
This lovely couple had just bought a home and were in the process of moving in. Picture this: the house was practically empty, with only a few pieces of furniture in place. Originally, we had planned to head outside and capture some shots of them in nature, but guess what? it rained non stop and the temperature was freezing cold! (Classic Tassie) Instead of venturing outside, we went for a cozy and intimate shot of them in the comfort of their brand new home. And it turned out absolutely beautiful! The warmth and love they shared within those walls created a magical ambiance that we fell in love with.
We get a lot of couples suggesting a walk by the beach, and our reply is always "Is that something that you usually do?" "Does this beach hold a special place in your hearts?" This beach holds an incredibly special meaning for this couple, and as we captured those beautiful moments and offered some guidance, our main goal was to make sure they had an absolute blast. These pictures perfectly showcase the fun and joy they experienced during their time together at that meaningful spot. Also, pets are a big yes!
They made the perfect choice for a family shoot, capturing their precious moments right in the comfort of their own home, surrounded by their adorable pets and their little one. You know what I absolutely adore about these pictures? They truly reflect their authentic love in their everyday environment. It's pure magic! No breathtaking location can compare to the genuine connection and joy that shines through.
Moz and Gi's warmth, kindness, and genuine passion for their craft quickly endeared them to the hearts of couples and fellow vendors in the wedding industry.
Their unique approach to storytelling, combined with their ability to make everyone feel at ease, has made them highly sought-after photographers, capturing unforgettable moments and creating timeless memories.
Find out more here Mozoph Weddings